I distinctly remember the time in my life when I was introduced to Lana Del Rey's music. I was in high school and worked extremely hard to be as cool as possible. For some reason, this meant reading Pitchfork religiously, decking myself in everything Urban Outfitters, and re-blogging every black and white photo and song lyric I could onto my Tumblr. I refused to listen to pop until I heard "Video Games" for the first time, and initially I thought the song was a joke (a joke of what, I still have no idea).
Two days later, I had Lana Del Rey's self-titled EP on repeat. My 16-year-old Tumblr-obsessed self was finally satisfied to have a pop album that didn't diminish my precious indie cred, and one that also catered to my romantic and melancholic overview of my oh so complicated high school existence. Oh, and of course I knew about her before she was popular — so I guess that's brownie points for me.
Now that she's selling her very own vintage dresses on her Lust for Life tour, my inner high school self is squealing. Here are the items I would cop to fulfill my high school dream of being a moustachioed man's Coney Island Queen™.
This T-Shirt (probably from Urban Outfitters)
The real question is, why WOULDN'T you want a t-shirt that says Buttweiser? Also, Amuurriikaaaa.
Winter layers
Not all of us live in LA (or in places with comparable climates), so here's to hoping Lana got to hang on to a few extra pieces when she modelled for  H&M's autumn/winter 2012-13 collection. I'm eyeing that pink sweater, Lana.
(Not) Wedding Chic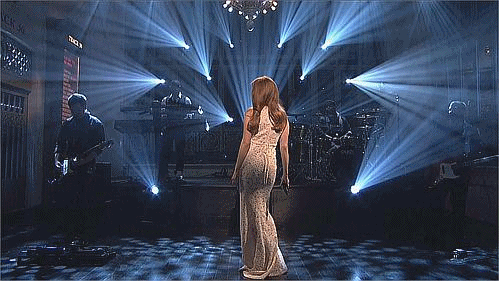 Lana Del Rey is the queen of long white dresses. Though Lana's SNL debut was rocky, her meme-making dress was anything but. While wearing a long white dress to anything other than a wedding is definitely a challenge, it's something Lana pulled off with ease.
Actual Wedding Chic
Maybe you're actually getting married (congrats!) and want a piece of Lana Del Rey history—like this perfect mini dress from her "Ultraviolence" music video—to walk you down the aisle. This could be a good option, and out of the many of Lana's endless white dress repertoire.
Wearable Woodstock
I have a hard time liking patterned dresses, but the one she wore at Glastonbury in 2014 is effortlessly chic and perfectly cut for her.  It's not the first time Lana has killed this look, check here and here for more. I'd wear this with sneakers and live it in all summer.
Sisterhood of the Travelling Dresses
Of all the dresses Lana wears, I think this would be the one I would grab immediately from the merch table, especially if I can't try it on first. The closest to a universally flattering style of Lana's would have to be this one: stretchy at the waist, flow-y everywhere else. You can't go wrong to add this to your wardrobe.
Everything from Born to Die
You've got morning to evening covered thanks to Lana in the "Born to Die" music video, including a flower crown that would make you the centre of envy at Coachella.