No one would deny that trying to break into the music and film industry is not an easy task. Throughout my life, I've always been the type of person who needs to do many things at once, whether it be film, theatre, music or some combination of all three. But trying to make it in the entertainment industry means that I've always found myself doing some pretty odd jobs. In the past year, I've done everything from play Ariel in a theatre production of the Little Mermaid in my hometown of Niagara Falls, to providing a body to Son Real's head in his music video for "Have a Nice Day."
But by far one of my most interesting gigs was getting to put on a red dress and be a handmaid in the super popular television show The Handmaid's Tale. Being on set was as intense as watching it on TV. Fun facts: We filmed this scene mid winter in Toronto and it was FREEZING!! We layered up all the red gear underneath our cloaks and had hand warmers in our gloves! We were not permitted to wear makeup, ear piercings, nail polish or underwired BRAS! Only natural handmaids allowed in Gilead! Ann Dowd who plays Aunt Lydia is very intimidating and frightening on screen but she is the warmest, kindest lady on the planet. She was always making sure we were well taken care of. Thanks Aunt Lydia!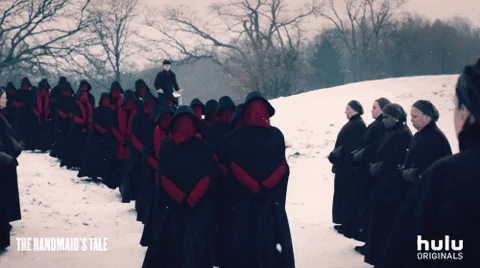 Throughout my journey trying to break into entertainment I have learned that being a creative means you will face plenty of people telling you "no." They will say you are not the right fit for what they are looking for. You learn to grow a thick layer of skin in order to tread carefully through the negative waters you may be thrown in. You must learn to convert rejection into a positive flow of new ideas, a reminder to be true to yourself, and ultimately, about finding little joys in each "no" as you mould them into a new opportunities.
All of these small odd jobs inspired me to start writing new music. Inspiration came from darker TV show soundtracks I love like Riverdale, The Vampire Diaries and The Handmaid's Tale as well as female musicians I love like, Lennon Stella and Billie Eilish (honestly though, you need to hear these ladies, they are pure magic). Receiving rejection and learning to keep looking forward was a huge step I look in my life thats what this song is about—the reality that it doesn't matter how badly people might hurt you, everything that happens to you is just part of your path and that will shape you for what comes next.