Recently, Wal-Mart made the controversial decision to remove copies of Cosmopolitan magazine from their prominent checkout displays, claiming that "this was primarily a business decision" based on concerns over its hyper-sexualized covers and content. But what makes the decision all the more controversial is who raised these "concerns" and the underlying intent behind their actions.
The issue of Cosmo's "hyper-visibility" in Wal Mart was recently outlined in a piece titled Walmart's Corporate Responsibility: Fighting Female Objectification in the #MeToo Era, published by the National Center on Sexual Exploitation (NCOSE). They claim Cosmo to be a key contributor to a landscape where young women are "bombarded with sexually objectifying images both in brick and mortar stores and in online advertisements virtually every day," and that "these images are so ubiquitous, the average person feels powerless to change the status quo." Although this opinion could be viewed as reactionary at best, the stance makes a bit more sense—and becomes a bit more insidious—upon realizing that the NCOSE is simply a conservative non-profit organization seeking to push a primarily white, religion-based, and heteronormative notion of sexual morality, all under the guise of female empowerment and the "#MeToo" movement.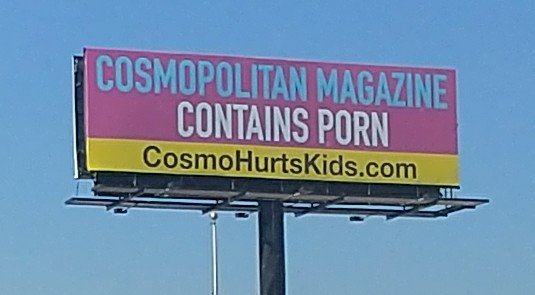 Cosmo brands itself as "a bible for fun, fearless females", and to try to censor that voice—let alone equate it with pornography—not only stands right in the way of the female empowerment movement that NCOSE claims to be operating under, but also actively undermines it. Thankfully, this contradiction has not gone unnoticed:
Confusing. Walmart is going to remove @Cosmopolitan Magazine from its checkout lines, in part as a response to the #MeToo movement, says @USAToday . But Me Too is about harassment, not sex, and certainly not women enjoying sex. Everything is being thrown into the panic blender.

— Lenore Skenazy (@FreeRangeKids) March 28, 2018
Dear Walmart,

Removing Cosmopolitan magazine from checkout lines at the behest of a Republican censorship organization that hates female sexuality is not a victory for the #MeToo movement. It's a severe perversion of it.

More room for those guns though huh?

Sincerely,
America

— Eugene Gu, MD (@eugenegu) March 28, 2018
The response has resulted in more than just tweets, with an online petition by Rebecca Gerber called "Don't Ban Cosmo" currently sitting at 13,791 signatures (of its intended goal of 14,000) at the time of this writing. Gerber states:
Cosmopolitan is a magazine for women — primarily staffed by women. The articles include empowering advice on money, careers, relationships, politics, fashion, activism — and yes, sex. Consensual sex. These are not subjects that women should made to feel ashamed to read. 

By publicly pulling Cosmo from checkout aisles, Walmart is telling women and girls that their sexuality is something to be embarrassed of, that their interest in their own sexual education is obscene — and that their bodies and choice of clothing could be the cause of any harassment they receive. 
One hopes that Wal-Mart will realize its blunder, not just to continue providing young women access to a much-needed voice, but to also avoid legitimizing a definition of the #MeToo movement that couldn't be further from the truth.