Ever wanted to know what Jaden Smith might be like as an alt-universe, Elseworlds-style Batman with a villain-blinding, all-white suit?
Well, if so, you're about to get your incredibly specific wish, because that's the concept behind Smith's newest music video for his song "Batman":
Jaden's no stranger to the odd, striking visual or two – just witness his previous work – but the "Batman" clip marks a new high point in trippy, superhero-based hip-hop music videos. Sure beats "Without Me", anyway.
When you sleep through your alarm on Monday morning The new Bat signal
Look how excited he is to be in that suit The Batmobile's gotten a few… upgrades? Batman V Superman + Batman The new Bat-Dance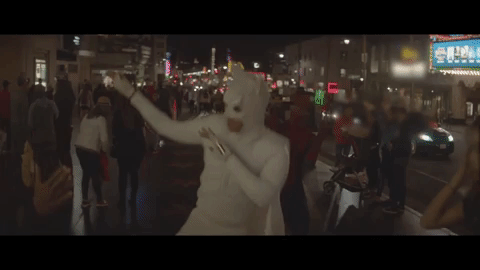 As Jaden is no doubt aware, Batman has no jurisdiction—that's probably why he can dance with Marvel heroes like Spider-Man and not end up on the wrong side of his true nemesis: a trademark infringement case.
Watch the clip in full below, and try not to get too excited about a potential sequel featuring Willow Smith as Barbara Gordon.