If you're thinking the last time you heard the name Fred Durst was at your middle school shaker, amidst a semi-circle, swaying to the sounds of Limb Bizkit's "Nookie" you're not wrong. So what exactly does the frontman have to do with mega pop star Justin Bieber? Well, it appears the "One Less Lonely Girl" singer is seriously leaning into Bizkit territory and starting to resemble the ghost of Fred Durst.
HEAR. ME. OUT
I've been mulling this theory over for quite some time and since my therapist refuses to address the matter, amuse me won't you? Not only are they of similar height, Durst stands at 5'8 while Bieber stands at 5'9, below are more riveting facts and hard-hitting research to back my claim.
The stare down
It all started with a series of selfies posted to dear Bieber's Instagram account that eerily mirrored the face of Fred Durst's haunting glare. Enter Durst, 2.0.
Debatable tattoos
At 48 years of age, the poster boy for rap-metal has acquired a laundry list of truly horrendous tattoos including but not limited to his band's name splashed across his back and portraits of Albert Einstein, Elvis Presley and Kurt Cobain. Bieber too has accumulated a plethora of tatts over the years made up of multiple roman numerals, a bear on his chest and casual cross on his face.
Ugh… interesting fashion
The evolution of Bieber's personal style has been an absolute trip. From his intro to fame via a baby face, shaggy locks and one memorable purple American Apparel zip-up hoodie to present day's hippy meets homeless chic vibes. It appears he's essentially raided Durst's closet, as homeboy tends to favour a disheveled lewk complete with a loud print and bucket hat.
https://www.instagram.com/p/BmqUByZgoOL/
Banned from parts of the globe
ICYMI Freddy boy tried to become a Russian citizen back in 2015, even going so far as to write a poetic love letter to Vladimir Putin. The Ukraine understandably blacklisted Durst from the country as well as any and all sales of Limb Bizkit paraphernalia. While JB has a running list of countries that he's banned from based on his bad behaviour including China, Argentina, The Middle East and allegedly the Mayan Ruins.
Zoolander Cameo
If you recall the 2001 cult film Zoolander you'll remember Durst iconic appearance sitting front row amongst Lance Bass and Lil Kim as one of the "beautiful celebrities" Derek Zoolander must ignore in order to kill the Malaysian Prime Minister. Cut to 2016's rendition of Zoolander 2 and you'll see a young J. Biebs walking in Durst's footsteps as he makes a cameo portraying a fallen model in the opening scene.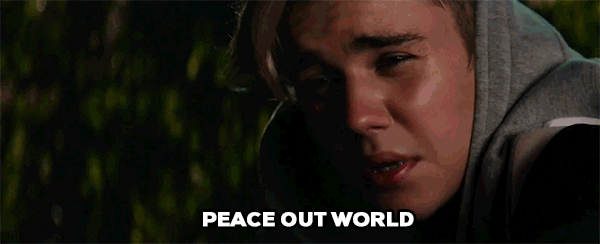 From Limb Bizkit's cocoon has't emerged a Freddy D lookalike and he goes by the name of Justin Drew Bieber. I'm just saying, if you're curious about what JB's's future holds, look no further than Fred Durst. And to all you skeptics, it's not too late to say that you're sorry for not bielebing me—the above logic is totally sound.