It looks like 10-time Grammy winner Justin Timberlake will likely be the halftime performer at this year's Super Bowl in Minneapolis — if reports are to be believed. According to an US Weekly insider, the veteran pop star and Veganville mascot is "finalizing" his deal, which will reportedly just be a solo Justin show with no special performers.
The news that JT is being considered at all might come as a shock to some, given that society collectively lost their shit back in 2004 during Timberlake and Janet Jackson's joint halftime performance at Super Bowl XXXVIII. The end of the performance, when JT "accidentally" partially exposed Janet Jackson's breast,  introduced the phrase, "wardrobe malfunction" into the cultural lexicon. Not only did it dominate approximately the next 1800 media cycles, but it set off a huge debate on whether or not a covered breast constituted some mild indecent exposure, or a disgusting perversion of everything the noble sport of football stands for. It also may have been responsible for the widespread adoption of YouTube, because nothing drives online traffic quite like celebrity skin.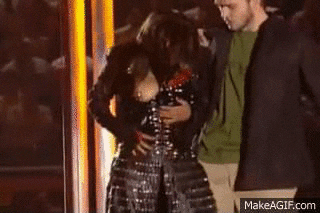 It's not particularly shocking that Timberlake would be asked back, given his ongoing place in pop culture and "Can't Stop The Feeling's" status as the best-selling song of 2016 (in the US).  Even in the immediate aftermath of Nipplegate, his career didn't overly suffer, but sadly the same can't be said of Jackson's: she bore the brunt of the blame for incident, and her profile never really recovered.
There's only one thing that could right the injustice: get JT and Jackson to perform the half-time show, only this time, Janet gets to make Timberlake's wardrobe malfunction and we all get 9000 thinkpieces out of it, and with any luck, a new Janet Jackson single.