In the mid-90s, Puff Daddy (a.k.a Puffy, a.k.a P. Diddy, a.k.a Diddy) was the face of the Shiny Suit Era. At a time when East Coast hip-hop acts—Mobb Deep, The Fugees and A Tribe Called Quest, to name a few—were ushering in a critically-acclaimed hip-hop sound, Puffy created his own lane. The production on his songs were sample-heavy, which drew heavy criticism from hip-hop heads who preferred a purer sound, driven more by original production and emceeing. At the same time, while there were valid criticisms that Puffy was watering down hip-hop into pop music, he had The Notorious B.I.G. on his roster, arguably one of the most talented rappers to have ever lived. It was Biggie who provided his label, Bad Boy Records, with both street credibility and legitimacy.
As the label's founder, Puffy oversaw platinum records from Biggie, Mase, The LOX, Faith Evans, 112 and Total. But in 1997, with the release of his debut album No Way Out, Puffy went from the architect behind the scenes to the man stepping out from behind the curtain and into the forefront.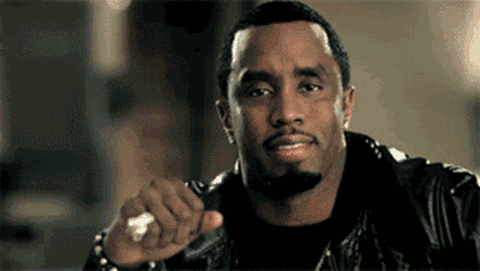 The album, which was produced by his in-house team The Hitmen—who received production credits on all but one track—was laced with heavily sampled tracks. The list of sampled artists were wide-ranging and included David Bowie, Marvin Gaye, Stevie Wonder, Donny Hathaway, Diana Ross, The Jackson 5 and Grandmaster Flash and the Furious Five. While it would be easy to dismiss No Way Out as a commercialized version of what a hip-hop album should be, like Puffy and Bad Boy, it was also many other things.
The album was aptly credited to Puff Daddy & The Family, because Puffy was never a true solo artist, but rather an expert curator and collaborator. For this project, Puffy brought his in-house producers—Steven "Stevie J." Jordan, Deric "D-Dot" Angelettie, Nashiem Myrick and Ron "AMEN-RA" Lawrence and others —to a studio in Maraval, Trinidad with the mission of putting out hits. The result were songs that would end up on No Way Out and other solo efforts from the label.
The album was aptly credited to Puff Daddy & The Family, because Puffy was never a true solo artist, but rather an expert curator and collaborator.
"For the next two years, I wanna have radio on lock," Puffy said about the creative process. "Call the girlfriend, wifey, or whatever, and let 'em know that you're not gonna be around for a few weeks. We're gonna get away from all this drama, put our heads together, and when we come back, we're coming back with hits."
Even those who didn't give No Way Out a chance when it was released 20 years ago can't forget the hits that it produced. No Way Out was one of the most successful albums of all-time and had some of the biggest hits to come out of the Bad Boy era. Commercially, the album sold over seven million copies in the U.S. alone, and debuted as the number one album on the Billboard 200 when it was released. It also won the Grammy Award for Best Rap Album.
At the time, Puffy also cornered the market on the grandest productions when it came to music videos. In the music video for the lead single, "Can't Nobody Hold Me Down", Puffy and Mase drove around in a Rolls-Royce in the desert.
The eight-minute long "Victory" music video, directed by Marcus Nispel, features Puffy in a post-apocalyptic homage to The Running Man, with cameos from Dennis Hopper and Danny DeVito. The video ranks as one of the top-ten most expensive videos of all-time, costing $2.7 million.
The "Been Around The World" video was a 10-minute mini-movie directed by Paul Hunter with cameos from Vivica A. Fox, Quincy Jones, and an iconic dream-dance sequence with Jennifer Lopez as the Princess of Tunisia.
Beyond the glitz and glamour, No Way Out was also an unofficial and heart-wrenching farewell to Biggie, whose death, just a few months prior, loomed over the album release. In a December 1997 interview with Rolling Stone, Puff Daddy was asked to reflect on the year in which he lost his best friend and released one of the most commercially successful albums of all-time with his debut.
"Statistically, this was one of the best years of my life," Diddy said, "but personally, it was one of the worst."

 
Despite the talent on the album, which included Black Rob, the LOX, and even Jay-Z, there was no greater presence on No Way Out than Biggie Smalls. Biggie's two "Victory" verses ("The most shady, Frankie baby, fantastic, graphic, trying to make dough, like Jurassic")—a standout performance on the album—was recorded the day before he was murdered in a drive-by shooting in March 1997 in Los Angeles, California. And then there was "I'll Be Missing You," a tribute to Biggie featuring Puffy (with verses written by Sauce Money); Faith Evans and 112 provided vocals, and a sample of "Every Breath You Take" by The Police carrying the track. Not only was it was first rap song to debut number one on the Billboard Hot 100, but it also produced an iconic live performance with Sting at the MTV Video Music Awards that year.
Despite all of these great moments on the album, 20 years later, the standout track remains "It's All About The Benjamins Remix." From Puffy's iconic opening lines ("What ya'll wanna do, wanna be ballers, shot callers, brawlers, who be dippin' in the Benz with the spoilers") to Lil' Kim's Pretty In Pink-inspired guest appearance and Biggie's biting outro verse, "Benjamins" is a perfect counter-argument that Puffy only made glorified pop music.
When they wanted to, Bad Boy could make songs that rivaled some of the hardest records that were released during that period, like "N—- Bleed," "Money, Power, Respect," and "24 Hours To Live." But you could just point to "Benjamins" and see how Puffy and Bad Boy could have continued to ascend in the hip-hop landscape if it weren't for Biggie's premature death.
In an interview with Billboard Magazine earlier this year, Puffy appeared to have the same kind of vision, as he reflected on the recording session that yielded both "Benjamins" and "Can't Nobody Hold Me Down". "Hearing all of our voices on those tracks [was special]," said Puffy. "That's the way that session was. The hottest team in the game was actually doing a recording session and killing it."
The label produced better records both before and after No Way Out, but this album captured Puffy's vision of what he wanted to do with his music. Add up all the qualities of No Way Out, and whether you enjoyed Puffy's music or not, there's no arguing that it was the quintessential Bad Boy record.